DESCRIPTION
This one-night fundraiser has now grown into the largest consumer-focused cocktail celebration, with over 1500 mixology enthusiasts in attendance from across the nation. This year proves to be the biggest year yet. Join us as we celebrate the love of the cocktail!
For The Love Of Cocktails supports the Helen David Bartender Relief Fund, a charity which honors the memory of the beloved Port Huron, Michigan bar owner and community leader who passed from breast cancer. Beating breast cancer twice during her life, Helen David is an inspiration to those living with the disease. The fund directly supports bartenders in need with important (and expensive) pre-screenings, utility support, and more. It was founded by world renown mixologist Tony Abou-Ganim.








The leading beverage marketing force in Las Vegas. Back Bar USA provides creative, cutting-edge, marketing and promotional campaigns for the nation's leading suppliers, wholesalers, and retailers. Back Bar USA produces For The Love Of Cocktails in association with MGM Resorts International and WENDOH Media.


LOCATION


Skyfall Lounge
3940 S Las Vegas Blvd
Las Vegas, NV 89119
Japanese Cuisine
A Refined & Fresh Evening
a hands-on culinary experience
May 19, 2017 6:30 -9:30 PM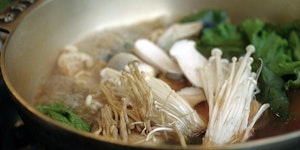 Discipline, dedication, delectable delicacy…essentials of the traditional Japanese kitchen that belong in your culinary etiquette!
This month, Divine invites all your senses to experience the seasonal art of preparation and plating with an evening of Japanese Cuisine. Internationally recognized for cultural significance, Japanese Cuisine is the craft your palate deserves.
Join our talented chefs in our professional kitchen as they show you how to transform this summer's menu with saki, fresh fish, seasonal vegetables, and refinement of the finest ingredients available!
A great evening, delicious dinner, & beverages, tax included, gratuity is not
$89 per person
Menu & Preparations will include components of traditional Japanese cookery & ichijū-sansai (rice/soup & three plating style)…
Zensai Appetizer
Suimono Clear Soup
Sashimi Fresh Fish
Yakimono Grill
Mushimono Steamed
Nimono Simmer
Agemono Fried
Aemono Pickled
Gohan Rice
Miso-Shiru Miso soup
Tsukemono Pickles
Ryokucha Green tea
Wagashi Sweets